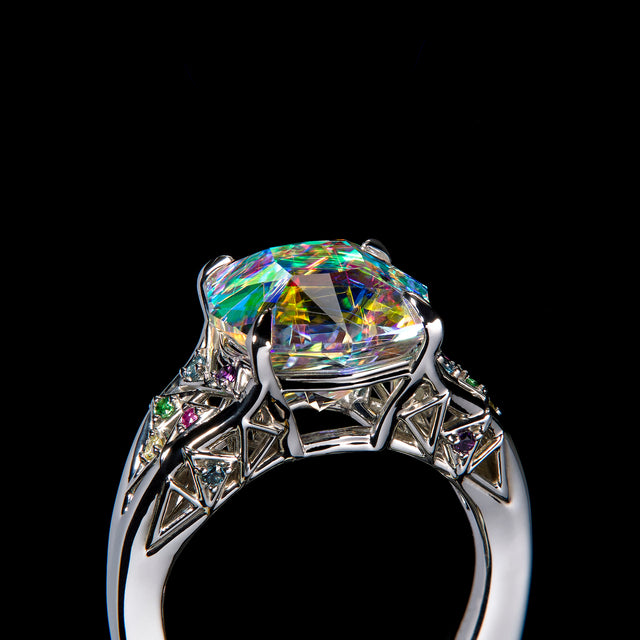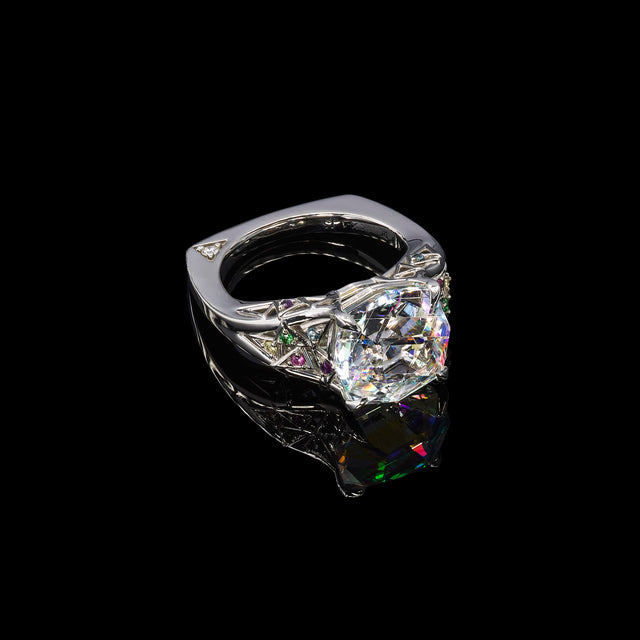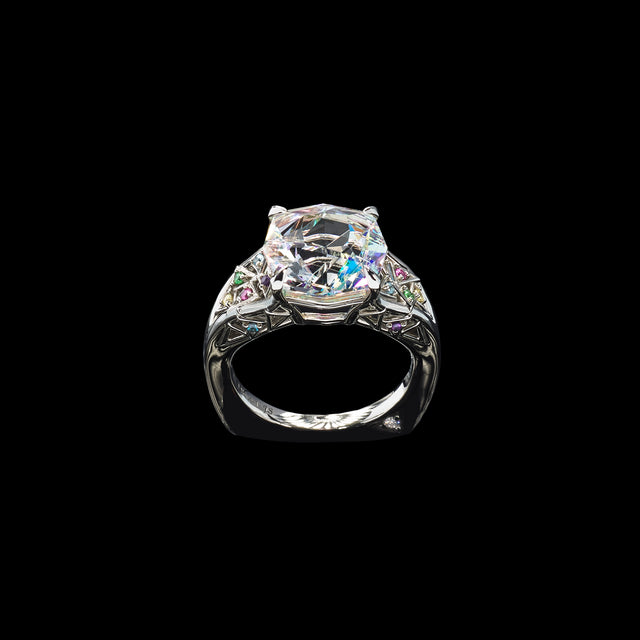 Wearables Limited Embody the Very Best of the Wearables Collection.
This Jack Storms Wearable, The Avery, is the first ring offered through the collection. Known for his unique, mesmerizing glass sculptures, cold glass sculptor Jack Storms has found a way to bring his exquisite glass art to everyday life. The Wearable Collection is the culmination of his passion for contemporary art and the desire to bring his work to the world outside of the studio. They can now be worn or even passed down from generation to generation. His latest collection combines his iconic lead crystal and dichroic glass to create wearable art that is both conversation starter and impactful statement jewelry.
The stone that adorns the piece is made using optical crystal and dichroic glass. Each stone has it's own unique kaleidoscopic core created by the glass artist himself. The stone created from Jack's work is then designed by Hashnu Stones & Gems and Mark Oros as it's centerpiece, and finally married with an exquisite setting and band designed by Robin Callahan Designs. In the bold and exciting piece's band you will find gorgeous stones including:
4 Round AA 1.25 mm Amethysts "Aquamarine"
2 Round VSGH 1.70 mm Diamonds
2 Round AAA Bohemian Garnets 1.25mm
2 Pink Sapphires 1.25mm
2 Yellow Sapphires 1.25mm
2 Round AA 1.25 mm London blue topazs
** Please Note: this is a custom piece, it will take approximately 4-6 weeks to be delivered **
Production is extremely limited. Get it while you can when you see this piece in stock. Make sure to Follow us and subscribe to be the first to know when our limited editions are available.
All Wearables can not be refunded once ordered.  These are custom made for you.  I will however accept exchanges if you are unhappy with your piece.